21 Tips For Marketers About Facebook Timeline For Fan Pages | Mari Smith
: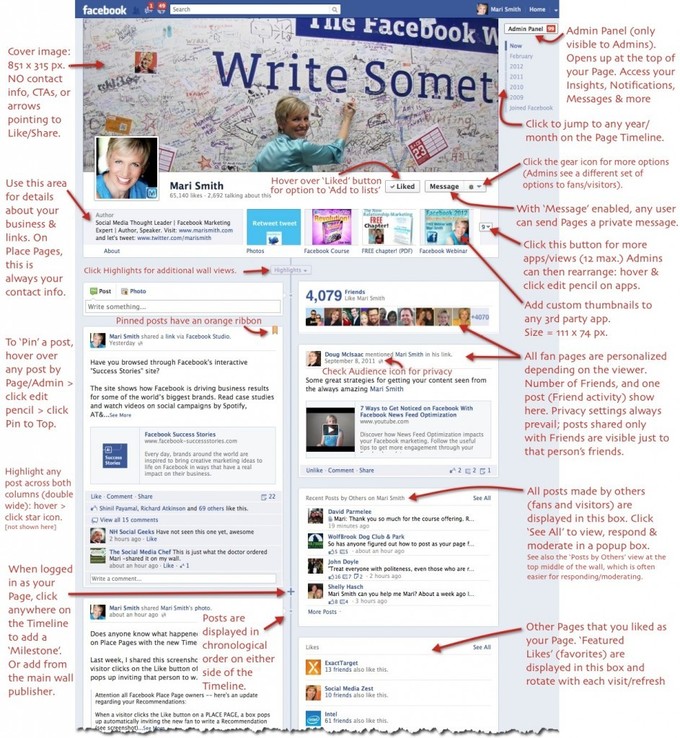 One of the biggest feature changes that many businesses are upset about is the removal of a default landing tab.
The good news is you can still have custom tabs, plus the like-gating element still functions. You just can't set a default landing tab. However, each of your apps still has its own unique URL.
That means you can drive traffic to any "landing" page you wish – from within Facebook via ads, your profile and other places as appropriate; and from outside Facebook on your website/blog, other social profiles, tweets, email campaigns, email signature files, and so forth.
With the new Timeline design, you'll notice the generously large cover image at the top of your page.
Here's a list of 21 key points (each tip is analyzed in the full article) about the new Timeline design:
1. Preview...
2. March 30...
3. Cover Image...
4. Image rules...
5. Profile picture...
6. Landing tab...
7. App URLs...
8. Showcase apps...
9. Custom thumbnail...
10. Liked button...
11. Interest Lists...
12. Milestones...
13. Wall Filters...
14. Pin posts...
15. Highlight posts...
16. Posts by others...
17. Default wall...
18. Personalization...
19. Adjust photos...
20. Messages...
21. Admin Panel...
At the end of article, Mari Smith has added some resources: Facebook's Page Guidelines and Video Tutorial from official Facebook.
Check out full article here:
http://j.mp/wnNs3U